Kalimna Falls is a waterfall deep in the Otways National Park, and the local indigenous word for beautiful. The series is an exploration of both wild creatures and natural artefacts. A grasping after the beauty and complexity found in nature, and reflected within.
The series is a combination of both film and wet plate photography.
The film images are shot on Ektachrome slide film, giving the tones a golden and painterly quality. Lowlights fade quickly to black, isolating the subject as if sitting for a studio portrait.
The wet plate process creates stunning moody and textural images that reveal elements of light not visible to the human eye. This mirrors the creative intent behind these images; revealing layers of beauty and meaning beyond our daily awareness.
My primary inspiration is an ongoing connection with nature and the beauty it holds. I am also drawn to Jungian archetypes and symbols. I like to let my intuition and connection with the subject guide the process, winding these threads together.
In this way the photographs are a sort of prayer, an icon created by the interplay between my conscious and unconscious mind and the subject matter.
The resulting artworks are contemplative, inviting the viewer to feel and connect with them. Please take your time and sit with each image. The accompanying text provides a sign-post for your reflection.
'Wild goose'
Geese have long been a symbol for the wildness and unpredictability of the spirit. The celts preferred them as a symbol than the more docile dove. A creature that is often used as shorthand for silliness yet full of humble dignity.
'White magpie'
A Leucistic magpie, her feathers white instead of black. Inhabiting the bland suburban landscape yet stunningly beautiful and rare.
'The swoop of a cranes neck'
'Weedy Seadragons'
Found on Bancoora beach after stormy seas, these beautiful Weedy Seadragon remains are a reminder of the fascinating and sacred depths just out of sight.
'Old rugged cross'
Made from the wood of my Pop's old cattle yards this image pays homage to him and the faith tradition I have inherited. I distinctly remember him singing the hymn 'The old rugged Cross.' A man of the land, old and rugged himself like the cattle yards he worked in and the cross he sang about.
The tree of life and death'
An upside down tree. Not a branch but a whole bush. A nest of broken twigs held within.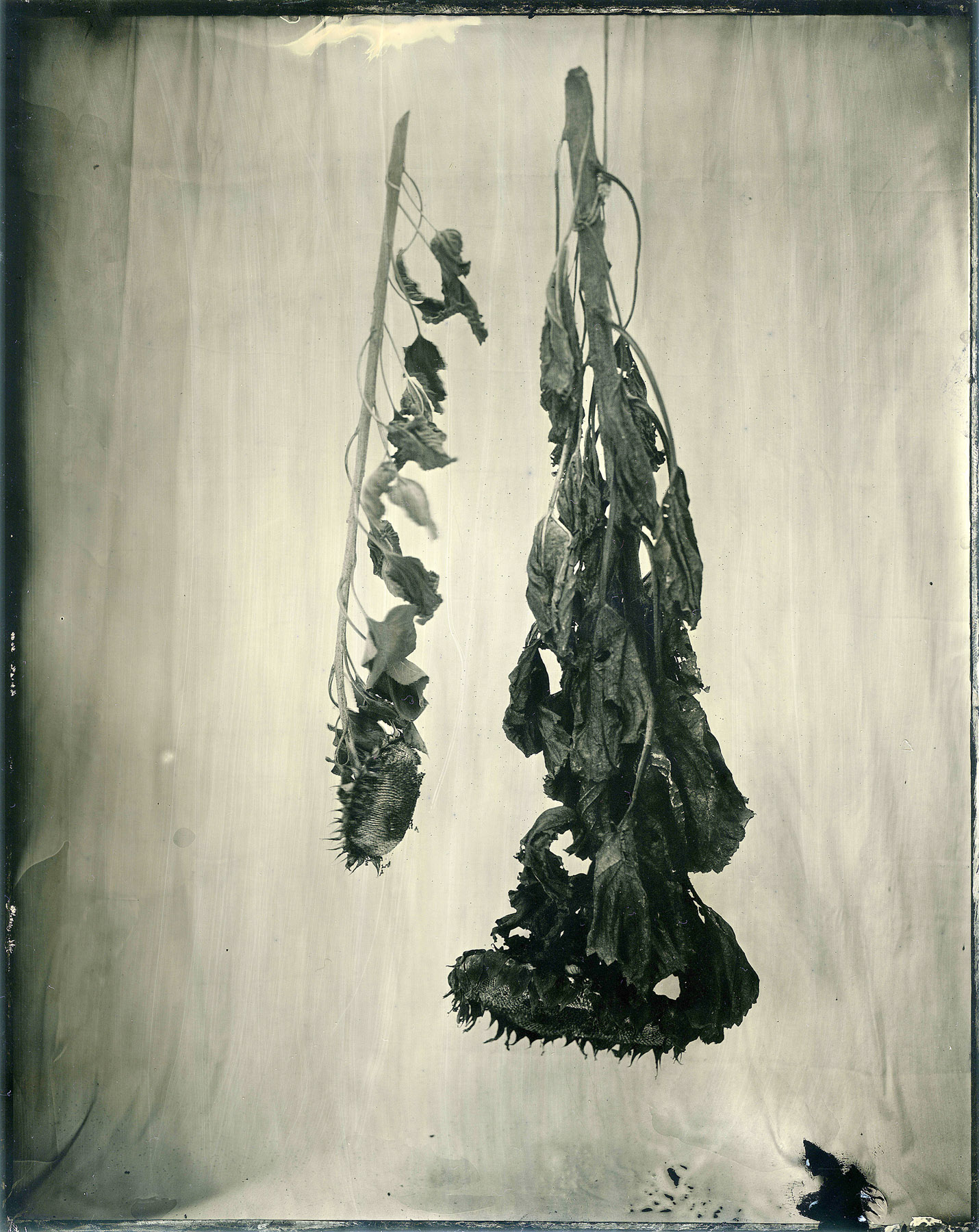 'Dried sunflowers'
These giant sunflowers grew from the smallest of seeds.
'Stream Glory Damselfy – Neurobasis Chinensis'
Attempting to capture the delicacy of a dragonflies wing.
'Day flying moth. Alcides Orontes'
Chasing the dusty shimmer of a butterfly's wing.
'Whale bones'
A sacred creature of the deep washed up on a beach and all that remains are the long curving bones of its ribs