Photographed in
Australia
This story was an exclusive look into the experience of residents in one of Sydney's last long-term caravan parks. Completing it hinged on persistence, curiosity, and access, to reveal the precarious nature of human lives in Australia's most expensive property market. 
My research on caravan parks began in January 2021 and I was drawn to Fairfield West Caravan Park due to its proximity to the CBD. After a telephone call rejecting any access given their preference to stay hidden, I was hooked. Eventually I began dropping by in person to change the park manager's mind and the story begun to take shape as I built trust with the residents over the next four months. To give a rare insight into these normally hidden lives I immersed myself in their daily lives to capture a portrait of adversity that remained dignified. Countless nights went into becoming a close confidante but with that came immense responsibility – particularly to people who have never shared their stories to journalists let alone anyone else before. The balance between sharing intimate details and the ethics of protecting them became a challenge.  For example, when a New Zealander family revealed their criminal past – it put them at risk of deportation – potentially splitting up a young family. Luckily, they won a legal battle to stay in the country so that issue found a solution. For one interviewee who works in addition to his pension to survive – care had to be taken in explaining his finances. The story was a lesson in compassionate reporting – including the necessary details to present the honest situation while doing no harm. 
This story had an extraordinary public impact with 878,000 views within 24 hours and reaching millions on social media. A Go-Fund-Me page raised $55k for the residents in the days following. For the residents interviewed, it left them empowered. Jen wrote 'I'm not ashamed of who I am and where I am today. For that I thank you cause I now know this is my happy place'.
Down a sliver of a driveway, next to a busy 7Eleven petrol station on busy Polding Street, the Fairfield West caravan park is a place you can only find if you're looking for it. Its only marker of existence is a burnt-out sign that no longer lights up. Many of the residents found it through word of mouth in moments of desperation, when they could not survive in the traditional rental market. It is for many a last resort in Sydney's expensive property market.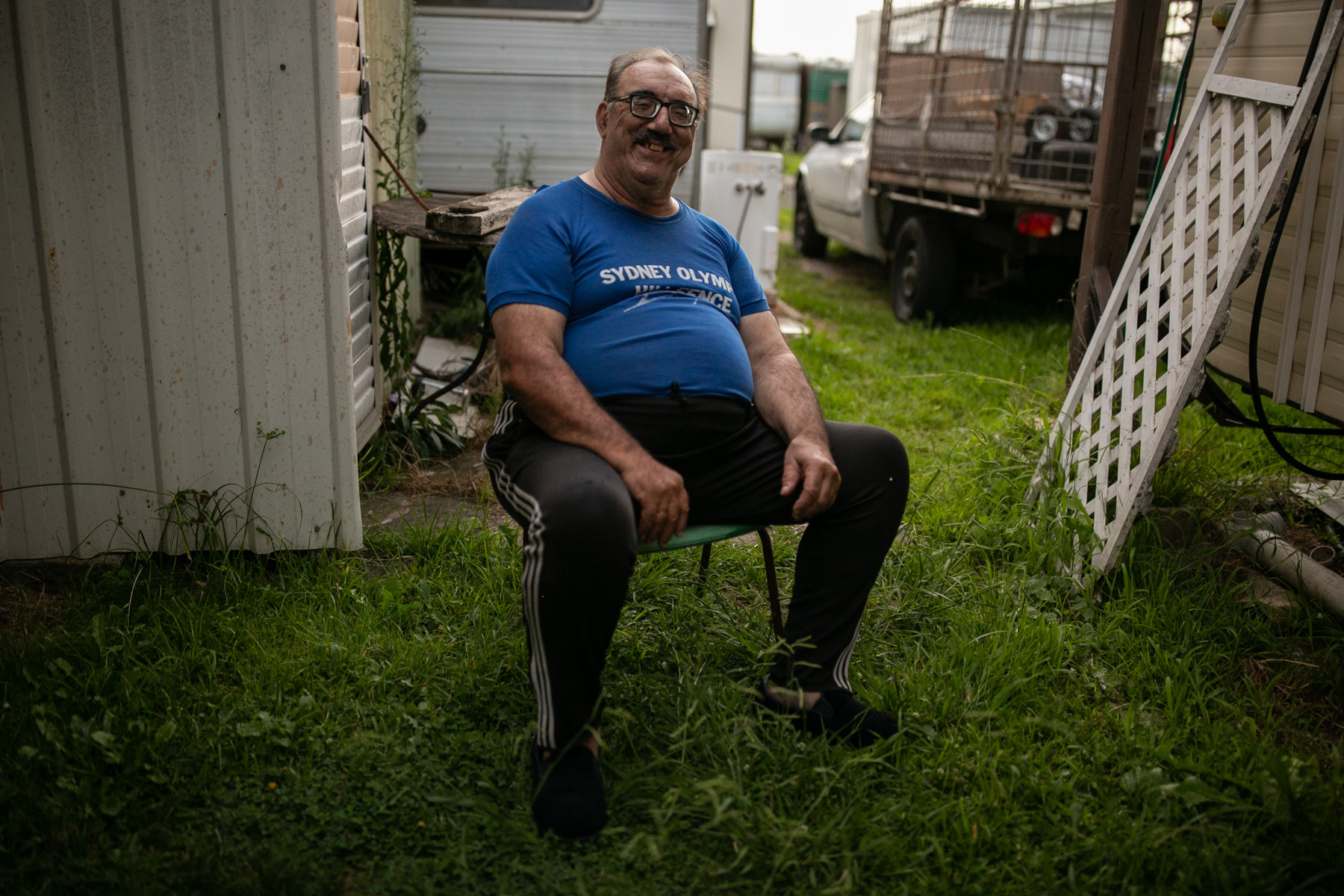 Most days, Andrew wakes up at 4:00am in the caravan he's been living in alone for the past seven years. Here he sits outside his caravan. A pair of big, friendly eyes flash behind thick glasses, hinting at the strapping young soccer player and successful businessman he once was before life tripped him up. He lost his wealth in the global financial crisis then lost his wife to cancer two years later. "I went to the pinnacle and then somebody dragged me down to the gutter. Not the gutter, but very low," says Andrew.
Andrew and his friend Bob heave a washing machine into a truck to sell as scrap metal. Andrew, a pensioner who lives in the park. works a few days a week to subsidise his pension by hunting for scrap metal. It's backbreaking work for a young person let alone someone pushing 70 but without the extra cash, Andrew would only have $300 a fortnight to live on. With his power bills, rent, vehicle and petrol it's just enough – but he also is wanting to save up money to reunite with and support his young son
A caravan at night in the park during a rainy evening. It's often so quiet in the park that no-one would guess 120 residents live there. Residents in the park refer to a strip of newer vans as the 'North Shore', while a grittier corner is dubbed 'The Shire' where this caravan sit; a homage to Sydney's class/suburb humour.
In the past few months, Cheryl has looked at over 50 rentals, obsessing over the idea of leaving the caravan park she moved into on a desperate Christmas Eve 14 years ago. Here she's looking at a property listing with a magnifying glass as she broke her glasses the day before. "I've been going out looking for flats because I'm sick of it," she says. "Nothing gets done for you but if anything goes wrong, your fault. But I'm just renting the dump, you know."
A night in Fairfield West Caravan Park is eerily quiet, with the sound of crickets the prominent noise. You would hardly guest 120 people live in the park. The park is hidden from sight and is down a sliver of a driveway, next to a busy 7Eleven petrol station on Polding Street, Fairfield West. It's a place you can only find if you're looking for it, and for many of the residents it's a haven of privacy for their secrets and existence.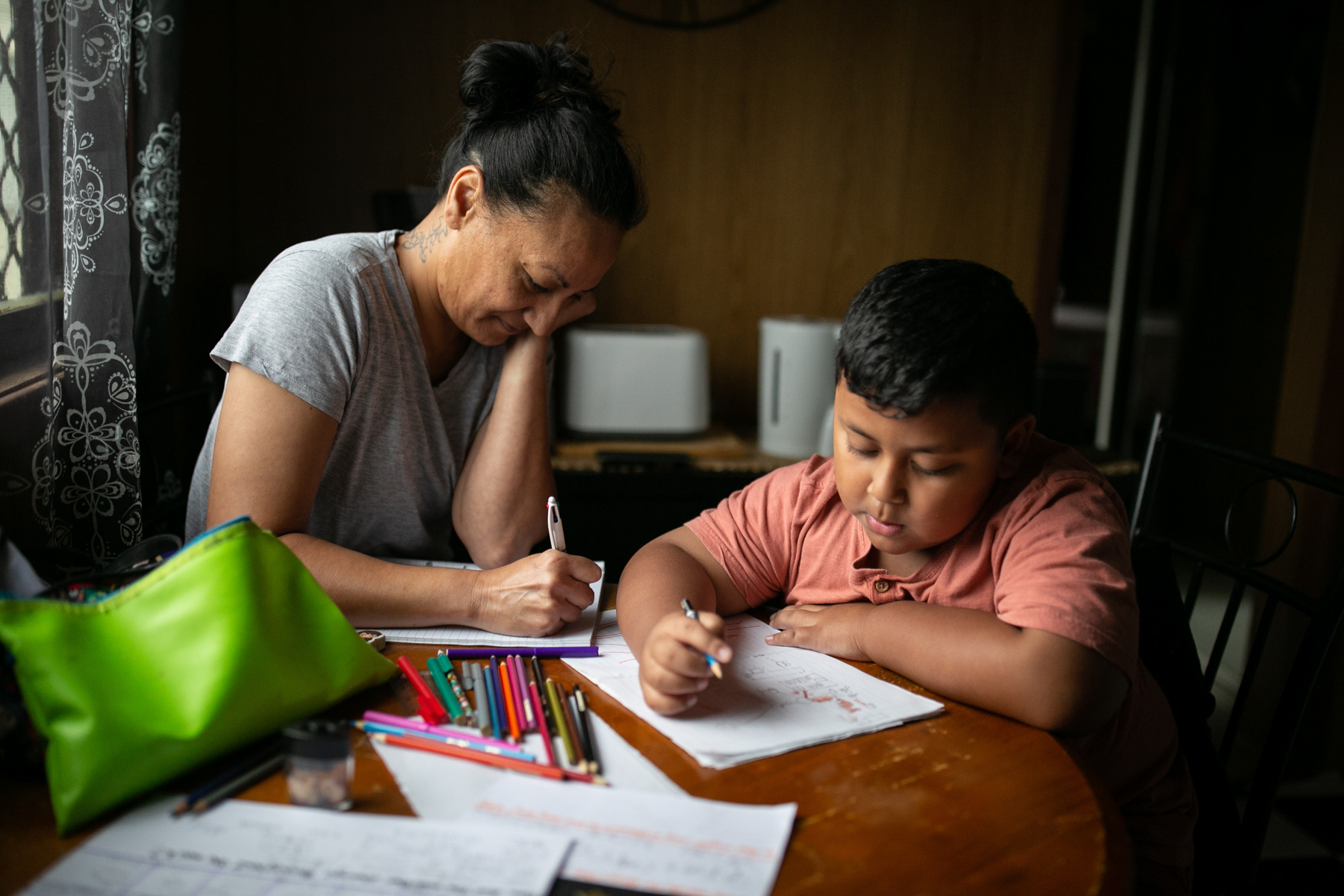 Jen and her son Marvin draw pictures of Godzilla together on a Sunday morning at their caravan in Fairfield West Caravan Park. It's one of the only days Jen gets off in a week, with her working long shifts as a forklift operator six days a week at a warehouse in western Sydney. The caravan is the home she found out of desperation but is one that has now become her 'happy place', where the former heroin addict who ended up in jail has started a new chapter.
Jen, Anthony and their six-year-old son Marvin spend an evening watching television in their caravan at Fairfield West Caravan Park. They keep down power bills by sitting in the dark.The caravan park is Jen's 'happy place'. She cherishes the small moments snuggled up on the couch as her partner watches the rugby or son watches a show. For the former ex-con and heroin addict, having a family is a dream come true after she got her life back on track.
Residents of the caravan park use flashlights to get their laundry done in the early hours of the morning. With people like Anthony pictured here waking up at 5am to do his load and avoid the rush during daylight hours. One sore point of late among residents towards management, has been the decision to remove the laundry light to discourage machines being used in the middle of the night.
Cheryl is one of four single women who live in the Fairfield West Caravan Park. She has a larrikin charm but mostly keeps to herself, spending her days in her dark caravan with her two cats. Here she prepares cat food for their supper.