Cover image by Ayman Kaake from the series 99 Names, courtesy of the artist
With the year kicking off and long summer evenings continuing to burn strong, we have collated some of the most exciting exhibitions taking place over the next few months in Naarm/Melbourne. So please attend, support and enjoy the following showcases by these fabulous artists from Australia and around the world.
28 January – 12 February, 2023
Opening night 28 January, 6-9pm
We had the pleasure of hosting Ayman Kaake in conversation with Buzz Gardiner during last year's APA Event, where Kaake showed and spoke of his new project 99 Names. The extraordinary project was deeply moving and we are so happy to see the work being showcased in print this month. The title, 99 Names, a reference to the names of Allah or God revealed to humanity in the Qu'ran, also speaks to the unfathomably high number of persecuted LGBTQ+ peoples around the globe. The pictures, many of which form religious and cultural gestures towards Kaake's upbringing in Lebanon, are subverted by the queer, culturally diverse friends of the artist represented within the photographs.
99 Names is a photographic and video installation, exposing the criminalization of homosexuality in at least 74 countries, 13 of which impose death as penalty. This show is a testament on how we have been manipulated for years by hypocritical acts of atrocity whilst believers loudly quote from their holy books in the name of religion. To fit their shiny image of love whilst criminalizing the act of love.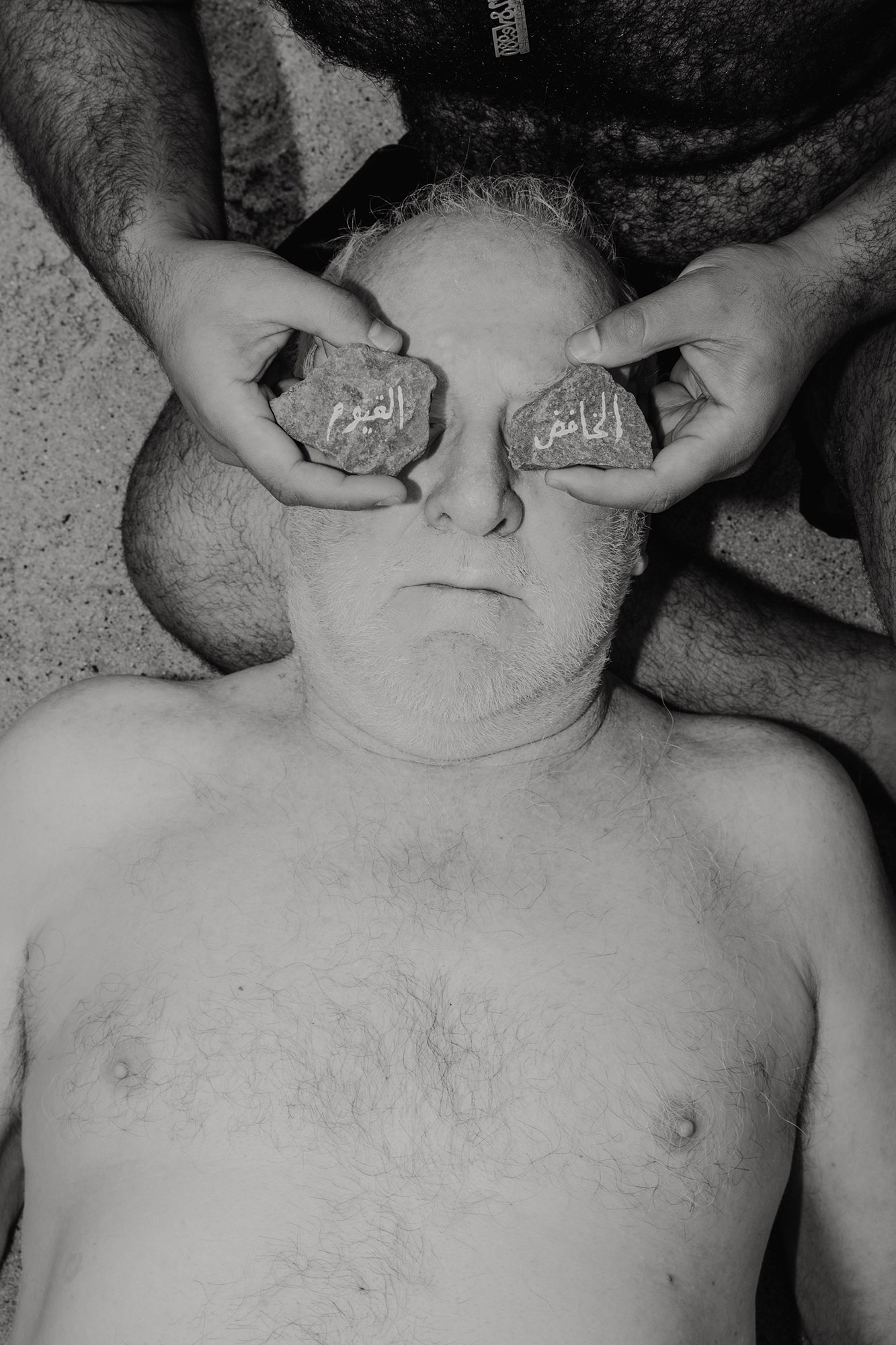 Images by Ayman Kaake from the series 99 Names, courtesy of the artist
27 January – 9 April, 2023
Opening night 27 January, 6-8pm
Artist talk feat. Ying Ang, Odette England and Lisa Sorgini on 28 January, 2pm
Centre for Contemporary Photography is hosting a massive opening night on Friday, January 27th to launch four new exhibitions; Ying Ang's The Quickening, Miriam Charlie's Getting to Borroloola, Odette England's Dairy Character and Lisa Sorgini's Behind Glass.
Each of these four exhibitions, bound together through themes of intimacy and recordings of home, represent incredible achievements by the artists. Ang's The Quickening, a vastly nuanced story that weaves together the emotional and physical spectrums of birth and motherhood and Charlie's Getting to Borroloola, a documentation of the journey returning to family, and to Country, after a period of Covid isolation, each put us in the passenger seat of an artists experience of transformation and transportation, allowing the viewer to become embedded within their experience.
Conversely, England's Dairy Character and Sorgini's Behind Glass each comment on differing forms of isolation. In Dairy Character, the marginalisation experienced by children and young women growing up in rural settings, visually entangled within the comparison of dairy cows and the concept of "unpaid reproductive labor", forms a crucial and underrepresented vantage point of rural South Australia in which the artist was born. Behind Glass presents a series of mothers and their children behind glass windows, photographed during Covid lockdown. At once a literal translation of isolation and a layered examination of the lived experience of motherhood within contemporary Australia, Behind Glass is an incredible expansive work of introspection.
Image by Ying Ang from the series The Quickening, courtesy of Centre for Contemporary Photography
Image by Miriam Charlie from the series Getting to Borroloola, courtesy of Centre for Contemporary Photography
Image by Odette England from the series Dairy Character, courtesy of Centre for Contemporary Photography
Image by Lisa Sorgini from the series Behind Glass, courtesy of Centre for Contemporary Photography
THE CHILLS, curated by Annika Kafcaloudis | OIGÅLL PROJECTS
Featuring the work of Sarker Protick, Aaron Christopher Rees, Pearce Leal, P Guilmoth, Dylan Hausthor, Lauren Dunn, Luke Le, Elena Helfrecht, Matt Dunne, Christine Elfman, Adam Whyte, Hector Clark, Lillie Thompson, Emmaline Zanelli, Jo Duck, Shea Kirk, Ali Mccann, Eliza Hutchinson and James Whiting.
16 February – 5 March, 2023
Opening night 16 February, 6-8pm
Long time collaborator and photographer Annika Kafcaloudis returns to Oigåll Projects to present her curatorial debut; THE CHILLS.
Presenting work from 19 photographers both local and international Annika explores, through their lenses, the beauty of the unsettling, a binding cord that connects the cohort. A mix of digital and film, traditional and alternative processing methods, the exhibition's base chord is concerned with the practical making of contemporary photography and the manipulations and distortions used to refocus the camera from a tool of documentation to a medium for art.
To accompany THE CHILLS, Kafcaloudis will also be releasing her much anticipated monograph 'BOOK 1'. Designed by Jake Truax (New York) and printed by die Keure (Brus sels).
'BOOK 1' chronicles the last three years of her practice, a collection of observations, processes and contemporary photography.
"The Chills is a celebration of images that are dark. It's not about seeing things clearly but feeling something clearly. It's about the longest nights of the year, the feeling of things hiding in plain sight and the barely tangible." – Annika Kafcaloudis
"Identifying with the dark side of humanity is cathartic, and the more we explore it, are stimulated by it, desensitisation ensues – we begin to crave more. This collection of work, maybe will inspire bravery, bravery to stare a demon you have directly in the face or maybe just to lay there with the light off"
Images by P Guilmoth, Aaron Christopher Rees and Elena Helfrecht from the exhibition THE CHILLS, courtesy of Oigåll Projects
15 March – 16 April, 2023
Opening night 16 March, 7pm – 7.30pm
Meet The Artist on 1 April, 10am – 1pm
An impressionistic reflection of ocean, Nicholas Walton-Healey's Salt Frames is a focus on the healing power and mysterious beauty of salt water. Photographed over on the coastlines of Darwin, NT, Salt Frames traces the barrier between land and sea, the hardened and the fluid.
"Sea salt aids the healing of wounds (including those beneath the surface of skin). Over the course of my journey, the Nightcliff foreshore in Darwin has been a place of reflection (salt-induced introspection). Rhythm. Change. Longing. Fragments. Salt Frames is a collection of seascape photographs describing this mediation. The collection also speaks to the bond that we, as Australians, share with The Coast. It explores place and connection with a language inspired by Impressionist painting. There's mysterious beauty in the salt of the sea …" – Nicholas Walton-Healey
Images by Nicholas Walton-Healey from the series Salt Frames, courtesy of the artist
Isabella Capezio, Katrin Koenning, Tom Goldner, Angus Scott and Bec Selleck in conversation with curator Gareth Syvret
4 February 2023 at  2pm
Join artists Isabella Capezio, Katrin Koenning, Tom Goldner & Angus Scott, Bec Selleck and exhibition curator Gareth Syvret for an informal panel discussion as they unpack the projects and the themes running through the Of Embers exhibition,  followed by a Q&A with the audience.
James Tylor and Rebecca Selleck's Fire Country speaks to fact that fire has always been here, folded into Aboriginal knowledge and experience over millennia, existing within a totality of deep ecological and cultural time. Here fire is reconfigured from threat to natural ally in Indigenous cultural practice. Katrin Koenning's photographs visualise an earthen poetics that rests in the polarity between ash and snow on Lake Mountain. For over a decade Koenning has watched and listened to the bush as it struggles to regenerate after the devastation of the Black Saturday bushfires in 2009. Tom Goldner & Angus Scott's photographs and video for Do Brumbies Dream in Red connect the paradoxical status of both brumby and fire in the Australian landscape and imagination. Isabella Capezio's videos, photographs, found objects and ceramics for Feeling Loss address the perceptual slippage between the recorded image, the news media and the actual multi-sensorial experience of bushfires.
Image by Tom Goldner from the series Do Brumbies Dream in Red?, courtesy of the artist
Emerging from the depths of nature Tamara Dean's practice examines the human condition. Leave only footprints is the first survey of the critically acclaimed photo media artist and spans more than 20 years of her photographic practice. This immersive exhibition incorporates scent, photography, installation and the moving image to create an environment that engages the senses.
'Tamara Dean has this innate ability to mine the depths of the human psyche and respond with work that is at once breathtaking and immersive and yet introspective and subtle. This exhibition marks the first survey of her practice and traces a career that formed in photojournalism that transformed into a practice characterised by a complex interweaving of photography, performance, video and the tantalising scents of nature." — Anouska Phizacklea, MGA Director
Image by Tamara Dean
Follow me 2022
from the series High jinks in the hydrangeas
pigment ink-jet print
150.0 x 120.0 cm
courtesy of the artist and Michael Reid Gallery (Sydney + Berlin)
Image by Tamara Dean
Sacred lotus (Nelumbo nucifera) in summer 2018
from the series In our nature
pigment ink-jet print
120.0 x 160.0 cm
courtesy of the artist and Michael Reid Gallery (Sydney + Berlin)
Image by Tamara Dean
The bride 2009
from the series Ritualism
pigment ink-jet print
76.0 x 101.0 cm
courtesy of the artist and Michael Reid Gallery (Sydney + Berlin)