Cover image by John Janson-Moore, APA 2022 Documentary Prize Recipient
We are so excited to announce prize recipients for the 2022 Australian Photography Awards. Now in its seventh edition, APA has become an important survey of the changing ways Australian photographers interpret the world around them. Our deepest congratulations to the winners, finalists and shortlisted photographers. We are deeply honoured to view your photography and hear your voices. Special thank you our 2022 committee who took so much care and consideration in the process and to our wonderful industry partners who make initiatives like APA possible.
Tristan Still, Fernanda
Portrait Winner
"I was going to be named Macarena, but I was born dark skinned. Dad didn't like that, but it's his fault mum says. So she named me after him.
I'm a First Nations world-inhabitant. Yeah Dad's blood runs thick with quanta, still Mum's half but her Nation is stronger. The people in charge thought they were right when they smacked language out of her 6 year old mouth. But we learning it now, to speak and laugh and love from inside of it. Mum carries the world in this way, clutching between survival and when moments allow – curiosity. I hope to too."
Fernanda is a proud Mapuche woman and also a descendent of the Diaguita-Calchaqui nation. She was born in Santiago de Chile and raised in south west Sydney.
Aletheia Casey, A Lost Place
Environment Winner
This work is a very personal reaction to the climate emergency, in particular to the Australian fires which almost destroyed my family home. Although we have not experienced the ferocity of the 2019/2020 bushfires this year, the threat is ever present. This work uses my own archival images, and, through painting, scratching, and reworking, reimagines the landscapes of my childhood home, now with the threat of environmental devastation. The interference of my brushstrokes on the prints became a mirror of human intervention in nature, my own hand attempting to control the uncontrollable.
John Janson-Moore, The Cane Croppers
Documentary Winner
Two teenaged cane croppers, Tyson, 14 and Blaze, 17, stare out over burning fields of sugarcane at the end of season's harvest, just outside the small town of Mossman, in Far North Queensland, Australia.
Local cane croppers, some as young as 12 years old, burn fields at the end of harvest, to rejuvenate the soil in preparation for the sowing of the next crop.
This year, the sugar cane industry has been hit by unseasonal rains across the dry season – over 250mm last month alone – a result of the La Niña weather cycle, which has drenched the east coast of Australia.
COVID-19 has also impacted the cane industry as the workforce shrinks due to virus. This labour shortage means longer work hours for already pressed rural workers, such as these cane croppers. Truck drivers and tractor operators are now being sought from overseas to help fill the gap.
Despite this, the industry is looking to the future to produce cane not just for sugar, but also for the new 'low carbon' economy, as a source of biofuel and biodegradable plastics. For the next generation, like Tyson and Blaze, the viability of the entire industry relies on the success of this kind of forward-looking diversification. Otherwise, the very survival of towns like Mossman is at risk.
Luke Alexander, Hang In There
Animal Winner
Arrayah Loynd, Something that I can't quite touch (diptych)
Experimental Winner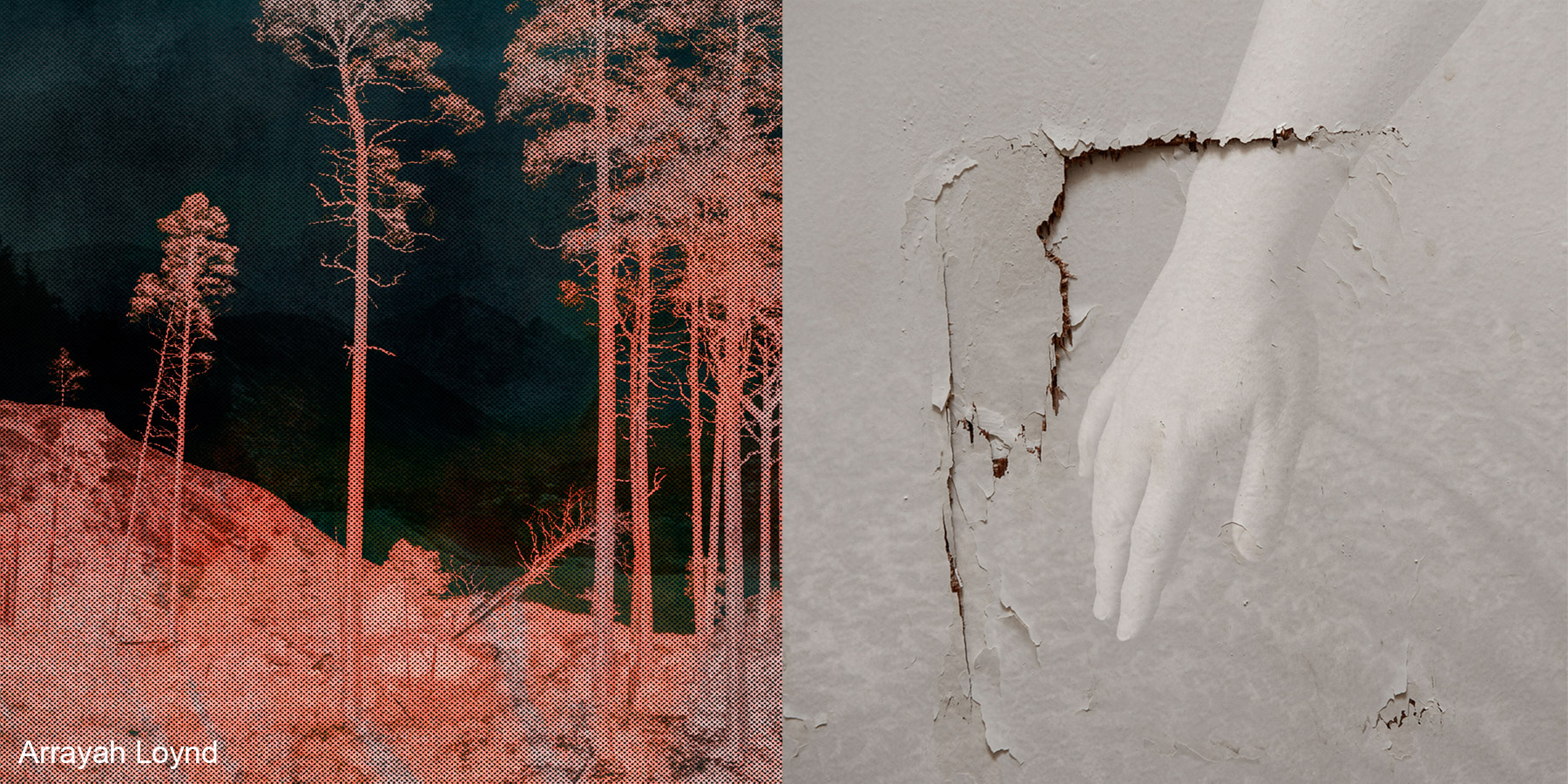 My brain doesn't hold memory
Not much anyway
What memory there is is fragmented
disjointed
Something that I can't quite touch
But leaves me feeling confused
Frustrated and overwhelmed
My brain doesn't work in a linear fashion
It shoots off into a million different points at once
Stretching me thin and exhausted
I see fragments of words spoken
And feel moments of deeds done
They hold me down and hold me back
Like a child I fold into myself
Disorientated as to what is real and what is not
Told to be good
Be still
Be silent
This world is not for the likes of me
I can try and negotiate but it makes no difference
I am frustrated and frustrating
Ask anyone
I am not who they say I am
I am not who you think I am
I am no one and nothing
I am everyone and everything
So come and find me
But only in the small moments when I want to be found
I make no promise that I will be there
________________________________________
My brain doesn't process thoughts and feelings very well.
It struggles to separate things, gets them all tangled up and leaves me exhausted.
Being able to express myself visually/creatively becomes a burning need.
It brings a sense of relief from extreme emotions and physical sensations that I don't always understand. It helps me to unravel the coil in my belly and the burning in my mind.
From my ongoing series 'Come and Find Me', this image reflects the place in my mind where trauma and memory converge. It is the place within me that simultaneously experiences pain and peace. It Combines multiple images from a near and distant past and the continuous blending and erosion of pixels until I arrive at the visual embodiment that is the confusion of my mind.
Sammie Bond, Underland
Student Winner
Underland is a body of work which references the ways in which taxidermy was incorporated into 1800s Victorian era fashion. It draws inspiration from 19th century fashionistas, who wore dead animals on their hats: decorating them with bird wings or even whole bodies of dead birds, as well as mice, and snakes. This roadkill couture was made commercially popular by thousands of upper-class women who wanted dead animals on their headdresses. By the late 1800s this bizarre fashion trend was banned due to the impact bird hunters had, killing millions of wild birds, leading many species to near extinction.
Edith Harley, It Doesn't Look Good In Lockdown
Junior Winner
I took this photo on mummy's phone in one of Melbourne's 2020 lockdowns. This is my mum and little brother and little sister, Lawson and Ivy.
I have called this photo 'It doesn't look good in lockdown' because life wasn't perfect. I thought lockdowns were sad and boring and sometimes I was angry. I was sad I couldn't go to school and angry because I wanted to play outside. We missed out on birthday parties and spent all day just sitting on the couch.
Lawson was born in lockdown so I couldn't buy him a present when he was born and no one got to meet him. Mum was sad about that.
I feel happy now that lockdowns have ended!
Bookings for this event are essential. Register here now to secure your spot, we hope to see you there!