Opening Night
March 17
5.30pm – 9.30pm
Venue
3 Merrifield Street
Brunswick, Victoria
An Evolving, Revolutionary, Chaotic, Touring Fundraiser
A New Burma is an ongoing collaborative exhibition project touring major cities around the world, amplifying the messages of artists and critical voices so bravely standing up for a future inclusive of all who would call Myanmar home.
This latest fundraising exhibition will take the success of their first show in Bangkok and bring it to the heart of Melbourne. This edition will be called Whistleblowers. 
Photographs, video installations, audio experiences and more will take visitors on journeys, not shying from the horrors of brutal suppression, but importantly highlighting the courageously creative ongoing journeys of a new generation of creative passionate young people.
Exhibition curator Thurein Tint's piece Home invites attendees to engage, creating interactive pieces in each city the show appears in. Asking what home means, this moving piece helps bridge the divide between Burmese separated by the world's longest civil war. 
A New Burma had its first 2-day exhibition, In-Exile, on the 1st anniversary of the coup, hosted at WTFBangkok, Thailand. Ma Hnin and the team brought together visual and audio experiences from creatives inside Myanmar and those forced to flee to live in exile, displaying experiences, memories and new expressions of identity. 
Before the coup, a radically inclusive New Burma was already being born. On Feb 1st 2021 the damned tatmadaw forces unleashed The People's creative resistance — the heart of revolution. It is said that you cannot kill an idea, but G.MAL and his predecessors have certainly tried. A New Burma shows the world that the creativity and beauty brutally suppressed by this genocidal "army" can never be silenced.
OAKKAHTA Ma Hnin, the self-styled International Beggar, grew up in Mawlamyine in Burma's Mon State, was sent to refugee camps on the Thai–Burmese border, and eventually arrived in Melbourne with her family age 12. As an adult, having trained as a chef, Ma Hnin returned to Myanmar in 2014, where she created safe-spaces for emerging youth culture including Father's Office, a bar+restaurant and Ayathakan, a community artspace and cultural hub. In April, she moved to Bangkok to create a landing space to help fleeing Critical Voices find support to get restarted in a foreign land.
Ma Hnin is a trained chef, and catered for the Bangkok exhibition, introducing Burmese food to a largely unaware neighbouring country. Joining forces with her mother Ma Aye Win, the event will bring the same authentic culinary delights to Melbourne.
On Sunday March 20, from 5.30pm onwards, Ma Hnin and Ma Aye Win will be delivering an exclusive seven course fundraising banquet held within the exhibition venue. With only 25 seats available at this event, bookings are essential.
Exhibition dates and times
March 17: 5.30pm – 9.30pm
March 18: 5.30pm – 9.30pm
March 19: 1.00pm – 5.00pm
March 20: 1.00pm – 5.00pm
Alco (he/him) | Mixed Media Prints
Alco is an artist born in 1999 in Mogok, Shan State Myanmar. Alco's passion for art started young through portrait drawings — now experimenting and exploring different subjects and mediums including typography, photography and collage.
Ants Are Always Busy (he/him) | Photographic Prints
Ants Are Always Busy (AAAB) is a photographer and videographer based in Myanmar. His vast portfolio includes portrait and reportage photographs, documentaries and more. Travelling across Myanmar to capture the genuine moments during the revolution is his way of contributing to the community.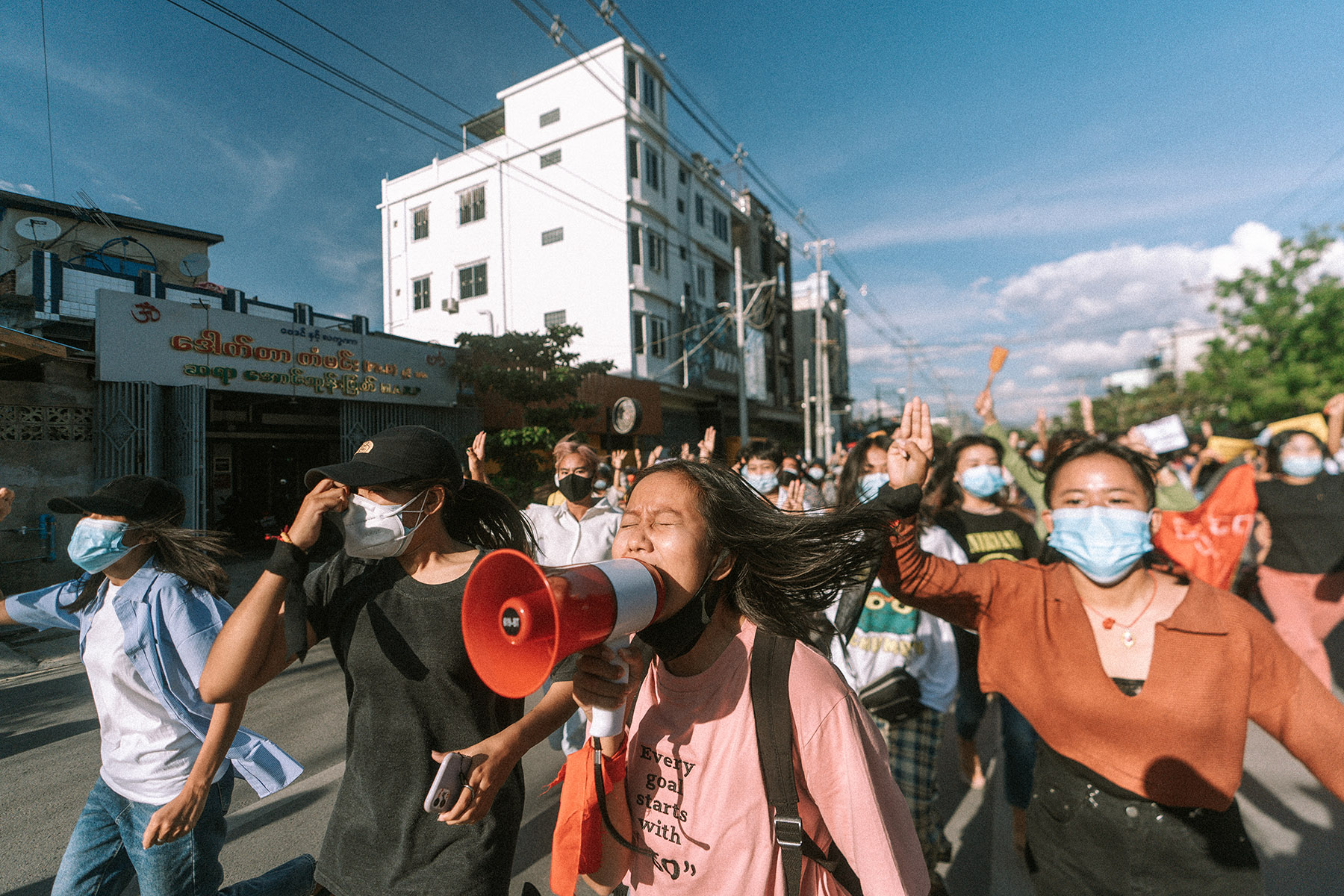 Eddie & Swannie (they/them) | Photographic Prints

Eddie Lwyn and Swannie Dean are queer Burmese visual storytellers based in Bangkok. They are a multidisciplinary duo exploring the intersection of culture and queerness.
'for everyone carrying their own weight…'
Kenji (he/him) | Photographic Prints
Kenji is a b-boy dancer and photographer.
Lili (he/him) | Audio installation
Solidarity Noise is a social sound sculpture initiated and facilitated by Kam Seng Aung, Joshua Weitzel and Samuel Cho.
Taking the idea of the pots-and-pans-protest against the military coup in Myanmar, musicians, sound artists and other solidaric people from over 40 countries sent some "noise". This noise from the international artist community is a gesture of solidarity towards the people of Myanmar and their struggle for democracy and justice.
Mayco Naing (she/her) | Video installation
Mayco, a trained photographer, has been part of the organising team for several years of one of Burma's most famous photo festivals, where she trains young Burmese photographers and journalists in documentary storytelling. In artistic residence in Marseille for a few months (in exile after the coup), she constantly explores new forms of art and wishes to present to us today her very first danced artistic performance (helped by Hpone and Namiko Gahier for the choreography)
Min Sett Hein (he/him) | Video Installation
Born in Yangon, Min Sett Hein moved to London after school to pursue a career in creative fields. Attended the University of Arts London in 2015 to obtain a degree in film practice, Min is currently working as a senior content editor for Real Stories, an online documentary channel.
Tim (he/him) | Interactive Visual Exploration
Tim, born and raised in Yangon, is a Visual Design student currently studying in Bangkok. Starting with drawing and graphic design — he is now focusing on experimenting with different mediums to find his way of visual storytelling.